Odes
"Odes" is Ted Milton's collaboration with laptop-musician Sam Britton, and groups Ted Milton's various solo-recordings and collaborations outside of Blurt in a new show.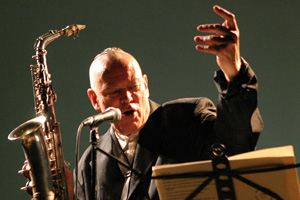 Their 2007 European Tour was greeted with enthousiasm and gave Blurt fans an occasion to see and enjoy Ted Milton in a more intimate setting.
Sam Britton also recorded and mixed the new Blurt tracks
"Cut It" and "Hat".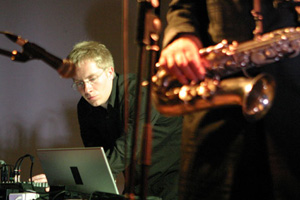 A limited edition book of poems with a CD and a 7" vinyl single was released in 2007, containing most of Ted's solo escapades of the past 25 years. "Odes" refers to Ted's first solo 12" "Ode: To Be Seen Trough Your Eyes", although in later years he also privately issued a cassette-compilation entitled "Odes" (in 1996) and a limited CD-Rom entitled "Odes", housed in a transparant envelope and a print of an old photograph of Ted's Mother on the disc. With Sam Britton (also known as Isambard Khroustaliov) Ted already staged "In Kharms Way", a performance based on the writings of russian absurdist writer Daniil Kharms.