The Birth of Blurt
When poet/puppeteer Ted Milton picked up the alto sax for the first time he experienced catharsis and, after his short-lived sax tutor told him he can't teach him anything without spoiling his aspiring pupil's idiosyncrasy, he formed Blurt in 1979 with brother Jake Milton on drums and arts teacher Peter Creese on guitar.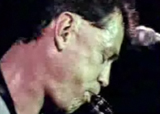 Their sound was rough and urgent, though not unfinished – far from it – the sparse vox-sax-guitar-drums instrumentation showed off the taut lines of Blurt's schizo-disco-scapes, able to crowd them with claustrophobia while still keeping a clear, fresh sound. Ted Milton's total lack of interest in smoothing out belied a stronger mind than most. During gigs they found their audiences flabbergasted at first, awestruck at second and hooked in the end. Rumour spread about this crazy three-piece outfit with a madman going out of his mind on bourbon and blowing his sax to shreds.
The press soon gave them their full attention.
Factory Records Fiasco
Manchester's Factory Records offered them a deal and they recorded one side for the "A Factory Quartet" double LP. However, it took almost a full year before Factory released the album, much to Blurt's annoyance, so they released "Get" and "My Mother Was A Friend Of An Enemy Of The People" as a single on Test Pressings Records.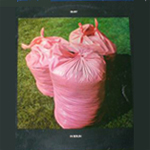 In Berlin they played the "Rock Against Junk" festival and their recorded set was released as their proper debut album, "In Berlin", not on Factory but on Armageddon Records, after Tony Wilson did not see the humour in Ted's comparision of Factory Records with lifestyle-chain Habitat.
"In Berlin" became an immediate hit in the independant charts and Blurt started touring extensively across Europe and America
John Peel invited them for a session and the world was their oyster.
Continuation